I just want to talk about our Disney World trip and no one in their right mind is going to listen to all I have to say or look at all the pictures I have. (Over 800!) So, I'll post it here and I feel like I'm telling someone (even though I don't think anyone is reading). Anyway, here goes!
Day 1: Part I
We had an early flight so the alarm went off at 4:25 am and we were all out the door by 4:50. That must be some sort of a record. Luckily we're only about a 15 minute drive from the airport (at least it's only 15 minutes at 5 am) We parked the car, rode the shuttle to the terminal, checked the bags at the curb, went thru security and we were sitting at the gate by 5:40. I think that may be another record! After an uneventful flight we landed in Orlando and it was only 8:40 in the morning! We had a whole Disney day ahead of us! I mentioned to Troy that perhaps he should look at the map so we knew where to find the Magical Express service (our complimentary Disney ride) because I'd read about people having trouble finding it. "Not people like us, " was his reply. Ok Mr. Smarty Pants I'll follow you. I followed him until he started walking out the doors of the airport and then insisted he follow me while I teased him about "people like us." We found the Magical Express and hopped right on the bus. Can I just mention how absolutely fabulous it was not to have to claim our luggage! That fact alone makes the Magical Express magical. Here we are on the bus. The kids are a tad excited!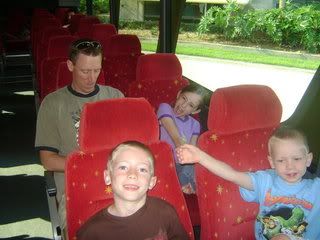 As we waited on the bus Troy leans over to me and says, "Pretty soon you'll take a look at me and say, 'There you are Peter!" It's a reference to the movie Hook and it's one of the things I love best about Disney World. My dependable and lovable husband finds his inner child.
Before we knew it, we arrived at our destination Disney's Beach Club!
As we hopped off we were greeted immediately by a friendly cast member and led to the front desk. I absolutely loved the smell of the lobby! If only I could find that smell and bring it home. It smelled like the beach, but only the good beach smells! (Let's face it, beaches have some pretty bad smells). Of course our room wasn't ready (it was only 10:00 am), but the cast member showed me where the locations was (woods view, 1st floor, close to Epcot). Perfect! She handed us our Keys to the World and we were off!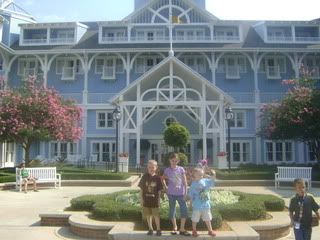 After snapping a quick picture we headed to the International Gateway. I couldn't believe how close it is! We were there in about 7 minutes! The World Showcase wasn't open yet so we headed to Future World.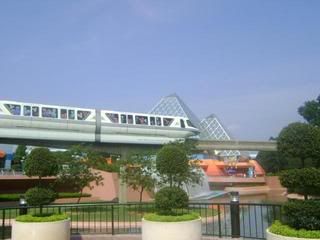 JJ requested Figment as the first ride and since I knew there would be no line I said sure! We hopped on the ride and everyone was a bit startled by the bit when they blow the air at you. (We'd all forgotten that!) After the ride the kids spent a few minutes playing in the exit area.
We were all beginning to feel rumblies in our tummies because all we'd had all day was a cereal bar. So we decided to head to the land to pick up fastpasses for Soarin and lunch at Sunshine Seasons. Lunch was really yummy. The Strawberry Shortcake was the best and we got it again later in the week. After filling up our tummies we had to decide where to next?